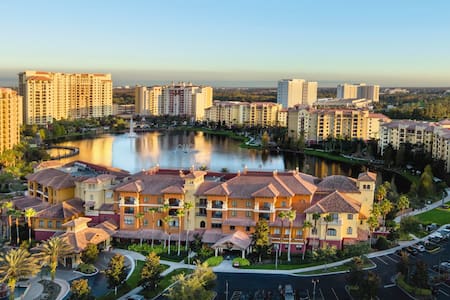 Întregul apartament cu servicii incluse · 8 oaspeți · 4 paturi · 2 băi
On Disney Property 2 Bedroom Deluxe with Balcony close to Premium outlets with Free Parking! Access to 5 pools, lazy river, BBQ area, mini golf and more.
Imagine waking up just minutes from the Magic Kingdom main gate, Epcot, Disney's Hollywood Studios and Animal Kingdom. This suite is perfect for families as well as couples and business travelers, with its two private bedrooms, two bathrooms, and attached private balcony. A fully furnished kitchen welcomes you with nearly all the amenities you would find at home, including table service, drinkware, cooking and serving utensils, refrigerator/freezer, stove, microwave, dishwasher and small appliances including toaster and coffeemaker. Start your day with a piping hot cup of coffee or tea made in your own kitchen, or grab a quick bite before heading out, the options are nearly limitless and you'll love the convenience. When you return from a day of fun in the sun, order in or create a meal just the way you like – it's your choice and everything is there, ready for you!