Located in one of the most prestigious Prague's residential districts, with a wide range of restaurants, bars, cafes to choose from, at a walking distance from the city centre, this newly-reconstructed and well-appointed basement studio offers you a comfortable double bed, a TV set and Wi-fi, a bathroom and a small kitchen. Well-connected to the airport and to the city centre through metro line A (Green line). The closest station Flora is 5 minutes' walk away.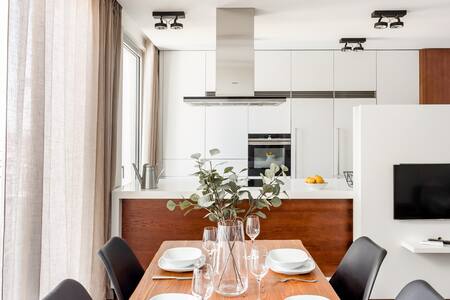 PLUS
Întregul apartament · 3 oaspeți · 2 paturi · 1 baie
Central Rooftop Apartment in Renovated Historic House
Slide open the curtains from the floor-to-ceiling windows to access the long balcony, along with views of the city center. The wood-rich interior is lit by designer paired spotlights, showcasing luxury standouts like a dazzling white kitchen.
Ce spun oaspeții:
"Mulțumim pentru șederea excelentă. Un loc perfect pentru a lucra și pentru a vă relaxa. Mi-a plăcut balconul, lucernă, duș și magazin gourmet la parter. Recomandat."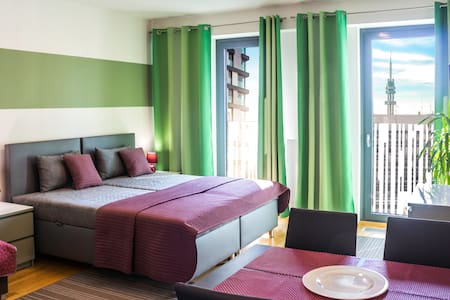 SUPERHOST
Întregul apartament · 4 oaspeți · 3 paturi · 1 baie
New apartment in residential tower · parking
This modern apartment is ideally located in the centre of Prague in the 10th floor of a brand new residential building called "Residence Garden Towers". It takes 10-15 minutes to get to the Old Town of Prague, 7 minutes to Prague main railway station, 5 minutes to "Želivského" underground station.
Ce spun oaspeții:
"Loc excelent pentru a vă caza în Praga, cu parcare gratuită și transport public ușor accesibil! Un bloc de apartamente nou și foarte modern la Praga. La 5 minute de stația de tramvai Interior elegant Și super-prietenos și prietenos gazdă Viktor! Cu siguranță recomand să rămâi aici! --- Dragă Viktor, vă mulțumim pentru ospitalitate!"